Changpump Zhaoge ($ZHAO) - Fudded by CZ on Twitter!
complete
Changpump Zhaoge $ZHAO 🔶🐕
Zhaoge will serve as an ambassador for the Binance Smart Chain. This hardworking doge's mission is to help new users become part of the BSC ecosystem.
📄 CA: 0x06fdecc23b4fc791121ae008c55b70bc17d13783
Trading is now live! 📈
💩 Poocoin:
🟡 BSCScan:
Team Info:
The team is comprised of 3 former team members of Dogebonk 🔨🐕 (250m ATH) who handled the art direction and marketing for the token. Around DOBO formed an incredible community, we are looking to do that once more with $ZHAO*.
@gh0stbr0 @santovibonks @g0dlyke
Keep up with Zhaoge through our social media channels!
Telegram:
Twitter:
Website: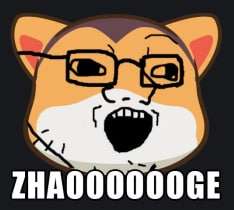 marked this post as
complete